Mother nature strikes again...
When I was staying in Kansas (was there up until about 6AM yesterday) a MASSIVE straight line windstorm came through with 100mph gusts and blew a tree over on the DA.
shattered the back windows (one was already broken thanks to my brother in law) and bent the driver's side c-pillar. NOW, i have to cut out that portion of the c-pillar, weld in a new piece, and redo the body (AGAIN!!!!!)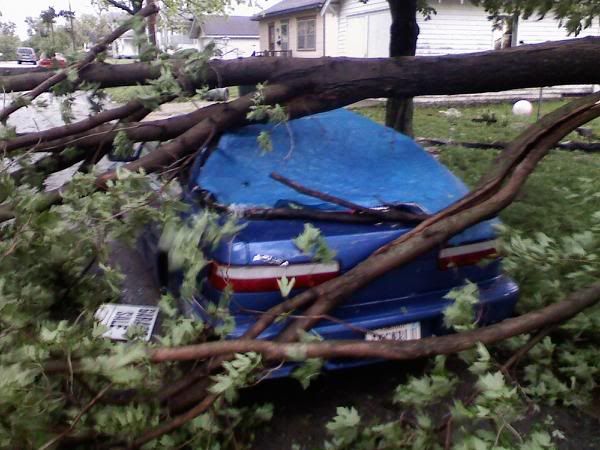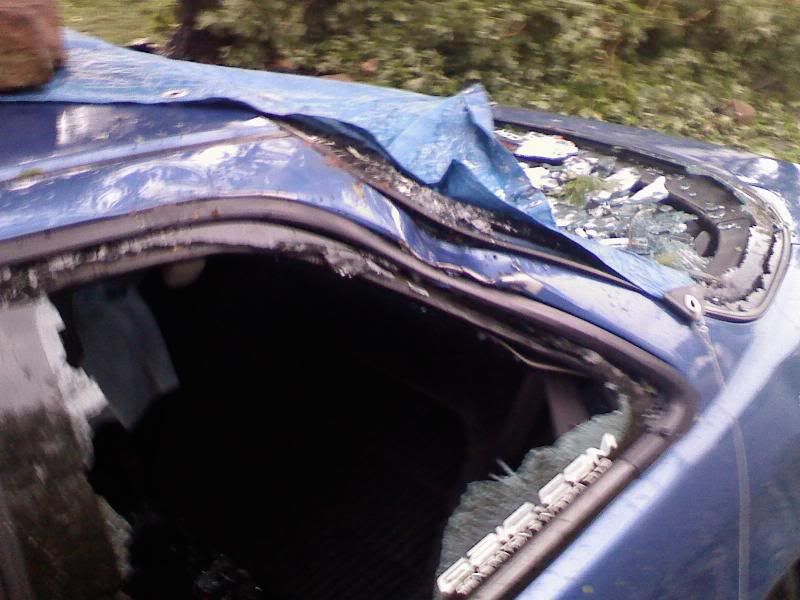 oh well. from this point, i'm going to just take it off the road, and do a full "ground-up restoration" on it.
plans for the rebuild include:
*Repairing the body damage from the storm (c-pillar, hatch area etc. nothing TOO bad, except the c-pillar which is bent pretty good)
*New carbon fiber hood (old one has a crack)
*Carbon Fiber hatch
*FAL rear quarter windows
*FAL rear window
*Enkei RPF1 wheels (15x7) **TRACK DUTIES**
*Enkei 92's with Captiva Blue Pearl wheel face and polished lip) **MEET/SHOW DUTIES**
*Set of polished GSR blades for casual rims when I'm just cruising around.
*Fresh Paint, INSIDE AND OUT, engine bay as well (again, this paint job isn't even 4 months old, and its already been destroyed from the storm)
*JDP OE2 lip
***WITH THE EXCEPTION OF THE JDP LIP, the carbon parts are likely to be color matched to the rest of the car***
*JDM Window Visors
*Mugen side skirts (will be searching for AUTHENTIC ONLY, no replicas here)
*Replacing the massive tip that comes standard on the GReddy SP2 with a more subtle dual-tip (stock style)
*Finishing the B20VTEC (LOOOOOOONG writeup to come giving specs of motor/fuel system/tuning specs. Long story short. Sleeved block *85.5mm bore* and 92mm stroke. aiming for 250whp NA)
*Wire tucking the bay (nothing TOOOO extensive, but definitely a good cleanup of wires etc.)
*Finishing up the suspension (pretty elaborate setup as is, but I'm gonna be touching the few areas I didn't address before. camber kits etc. steering component replacements
)
*Anything that is stock/oem that I'm not getting rid of will be replaced with BRAND NEW OEM Honda parts. There will be no exceptions to this. (Nuts/Bolts/Washers as well. No BS, this will be a massive restoration)
*Spraying a coat of Rhino Lining (used in truck beds, etc.) on the undercarriage to prevent rust. There isn't any at all, and this will be a measure to make sure it never happens.
*Possibly doing the interior under the carpeting as well, with Rhino Lining, but may not. I don't want to add TOO much weight.
*COMPLETELY redoing the interior, to include...
*New carpet
*New interior panel upholstery (door panels, rear panels by the rear seat etc.
*Black Recaro seats
*Mugen steering wheel
*New dash (current dash has holes in it from a ricer tach i had years ago)
*DB2 gauge cluster (for the rev happy vtak motor)
*Fixing passenger power window, and replacing wiring and motor for BOTH sides.
*Replacing all the wiring for the speakers (finicky wiring causes two speakers to cut out on occasion)
*New CD player (nothing really wrong with the one I have, I just want a change)
*New speakers at all 4 corners.
*ALL wiring harnesses replaced (unless inspection reveals them to still be in optimal condition.
as well as other things. This is going to be a MASSIVE restoration/build. It will take time, as family will come first. So this might take the better part of a few years. But consider this an idea of the finished product to come. For those that have seen this DA before, and have seen how it looked then, just imagine the finished product.
Giving myself a 3-5 year turn-around time as this is going to be EXPENSIVE and time consuming. The motor work alone is gonna be north of $5000.
After the car is done, I'll have my fun with it (track days, meets/shows etc.). I will then garage it after about a year of "play" and just store it away. It will go to my daughter when she is old enough, and responsible enough for it. IF she wants it. If not, I will just keep it as a memento to show that mother nature can't stop me, and that if you want to do something with enough passion, NOTHING is unattainable.
It will NEVER be a daily driver again. It will now be a "purpose only" car.